I was asked by the chairman of the canoe club if I would like to attend the BCU whitewater student safety seminar with him and the vice chairman, being a fresher who is keen to commit to kayaking and to the club and likely to be seriously involved in the club over the next few years. I jumped at the chance and we went last weekend and had a great time – it was at a whitewater & mountaineering centre called Plas-y-Brenin in North Wales, hosted by some of the greatest kayakers in the UK. It was a great experience for me to hear the opinions about gear, techniques and advice from these well-accomplished paddlers, without it being dictated to me like it has been in the past – it's great when someone can just give you their personal opinion for what it's worth, explain and justify it and leave you to hear opposing views and make sure you get the facts, rather than hammer it into you that their way is right.
We arrived at the centre before 9:00am (having got up at 5ish to set off by 6:00am). Not much to report about the journey other than us finding the following joke hilarious at the time (mostly due to lack of sleep):
I spent all yesterday in the garden with my step-ladder; not my real ladder, my step-ladder…
On the Saturday we sat through a seminar with Tom Parker about the importance of safety and avoiding at all costs the chance of an accident happening where you could be left to blame, by simply making using common sense and being sure not to take inexperienced paddlers down rivers beyond their abilities and leaving them in positions where they would be vulnerable to an accident. Then we did a session on ropework where we tested some throwlines (bags of rope used for  rescues by pool lifeguards and canoeists) to see how easily they break, which was interesting! Things like this are really worth sparing no expense on to ensure you've got a good one. We did some work on how to manufacture a harness from a short length of rope and use it to climb or abseil a vertical face to get to, our out of, a river and manoeuvre boats in such a situation. Then I attended a talk on how to plan trips abroad from your club, which I think I'm going to pursue this Summer, probably the Alps.
We ended up staying in a grotty bunkhouse with some paddlers from Birmingham University and on the Sunday I put myself down for the session on how to lead and run steep river creeks, where we drove out to some grade four sections of rivers and chucked ourselves off some mental waterfalls and drops. The sort of experience where you do something, then look back on it and think "Woah … that was a bit mad" but it was cool 'cause the session was aimed on how to run it safely, so we got out to inspect each difficulty when uncertainty laid ahead, and spend much time discussing our strategies, choosing our own lines through the water and watching each other to learn from each other's actions.
The quality (and presence) of safety equipment was very much stressed at this seminar; I now know I need to go out and spend a lot of money on new gear. I underestimated the need for good shoes (yes, canoeists need to wear shoes while boating) because you need to ensure you're safe when getting out to inspect difficult unfamiliar sections of rivers, and also when getting from the car/van/minibus to the river, and back again, as this can often prove difficult and may require a bit of climbing, lifting boats and setting up rope & pulley systems to get the boats to where they need to be. Another thing I'd overlooked was my helmet, which is perfectly suitable for paddling about on flat water (where the only likely dangers are maybe banging your head on a boat, getty or paddle) but for the sort of thing I'm doing these days I need a good quality full-protection one (not a full-face helmet – but some paddlers do choose to). One of the guys on the course said he doesn't mind spending £100 on a helmet because, quite frankly, his head is worth more than that. How true.
I haven't got any pictures from the seminar but here's one of me (looking rather angry for some reason) on the River Kent in Kendal in the Lake District last weekend: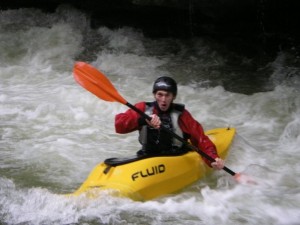 Plenty of trips planned for this year. I'm going to try to run as many beginner trips as I do advanced in order to build the confidence in the less-experienced members of the club and get them up to a higher standard so they can paddle higher class rivers. Teaching is just as important as learning. This brings me onto the subject of the link I recently realised between my attitude to parkour and my attitude to kayaking; in parkour I train individual moves and practise everything as much as I can, trying to do vaults on both sides, always working on my weaknesses to try to improve all-round, all this with the aim of linking each individual movement to another in order to execute smooth parkour runs in any situation; in kayaking I train individual skills and practise them on both sides, always working on my weaknesses to try to improve all-round, and then take this to a river where thse skills become needed to execute lines through difficult rapids as well as falls and drops. In both activities I thrive to experiment with different ways of moving, to demonstrate to myself what happens when I make slight alterations in bodily positions and seeing for myself what difference it makes. In both activities I tend to stick to pure methods which help me get from A to B, occasionally dipping into more alternative ways of moving simply to experiment and see if I can learn new moves.
I've treated parkour as a discipline over the last three years (my first year of parkour was more about finding my way and realising what I wanted to do than actually training – how are you supposed to train towards something if you don't know where you're going?) and now I've decided to treat kayaking the same. I'll be training & coaching every Wednesday evening at the Aquatics Centre and trying to do a river every weekend, sometimes I'll do a beginner trip on the Saturday and an advanced trip on the Sunday.
I'll be updating this blog more frequently now and I've got my next post planned for after the weekend, so watch this space. I'm seeing my parents when I go home on Friday and we're spending the weekend in London which will be awesome. I'm also getting my new laptop when I go home – I'm sure that ever since I confirmed purchase of the said laptop (using this desktop PC), and it realised it was being made redundant and replaced by a younger slimmer more portable model, it has purposefully and maliciously decided to boycott me and has been ever so slow. It's been great these last five years – its spec isn't anything to shout about but it's done everything I've needed it to do and it's brought you many blog posts and several videos! But it's the end of an era and I'm scarily moving on to Vista (dual-boot Linux) and may the new era of portability live long (until it gets replaced by the next technology, of course).